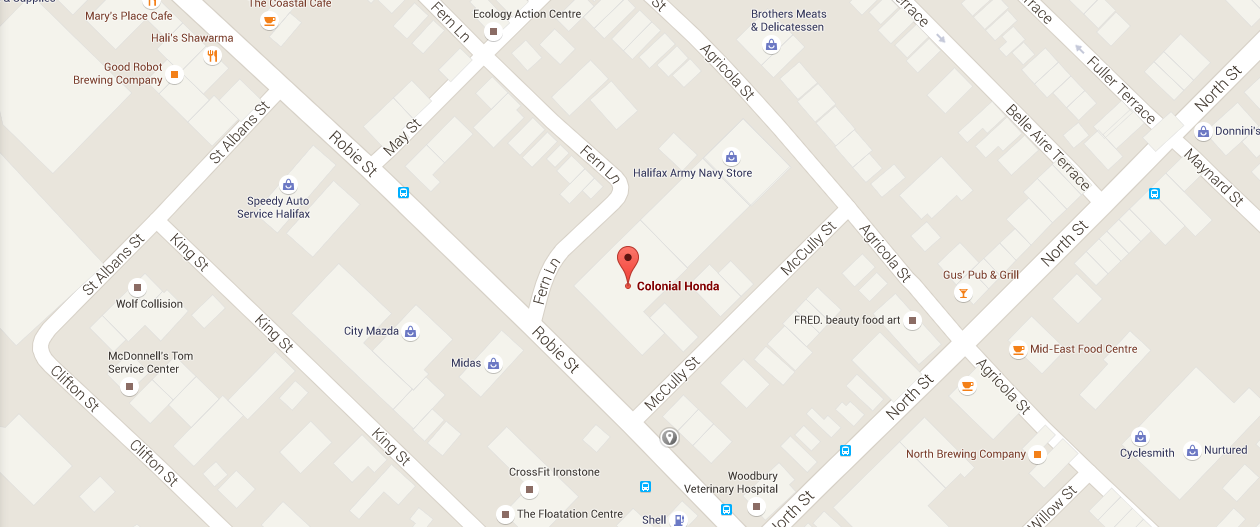 Contact Us
Call
902-453-1940
Hours
Monday: 8:30 AM to 9:00 PM
Tuesday: 8:30 AM to 9:00 PM
Wednesday: 8:30 AM to 9:00 PM
Thursday: 8:30 AM to 9:00 PM
Friday: 8:30 AM to 6:00 PM
Saturday: 8:30 AM to 5:00 PM
Sunday: Closed
Call
866-797-3459
Hours

Monday: 7:30 AM to 6:00 PM
Tuesday: 7:30 AM to 6:00 PM
Wednesday: 7:30 AM to 6:00 PM
Thursday: 7:30 AM to 6:00 PM
Friday: 7:30 AM to 6:00 PM
Saturday: 8:30 AM to 1:00 PM
Sunday: Closed
Call
902-453-1940
Hours

Monday: 8:00 AM to 5:30 PM
Tuesday: 8:00 AM to 5:30 PM
Wednesday: 8:00 AM to 5:30 PM
Thursday: 8:00 AM to 5:30 PM
Friday: 8:00 AM to 5:30 PM
Saturday: 8:30 AM to 1:00 PM
Sunday: Closed
About Colonial Honda
About Colonial Honda - Halifax Area New & Used Honda Dealership serving Halifax
Colonial Honda offers many automotive products and services to our Halifax area customers. From quality new Honda vehicles to used cars, we know anyone looking for a vehicle near Halifax will likely find what they want at our dealership. We carry a comprehensive line of Honda vehicles, including the , making us a good choice as your Halifax Honda car dealer.
Our services include trusted Honda car repair, original Honda auto parts, and auto financing to help our customers purchase the car of their dreams.
Call Colonial Honda or come visit us in person. We're convenient to Halifax and located at 2657 Robie Street, Halifax, NS B3K 4N9, Halifax, NS B3K 4N9 and look forward to helping you with your automotive needs.
Meet Our Staff
Our Sales Staff are devoted to finding you the best vehicle for your needs. All consultants are trained through Honda Canada's Professional Sales Training. This ongoing training provides our staff with the knowledge necessary to help you find a vehicle with comfort, quality and style. Come in and test drive a vehicle that's fun to drive with all the safety features you will need!
We are proud of our vehicles and look forward to sharing our knowledge and products with you.
Stop by Colonial Honda for all your Honda service needs.
Questions? Any of our knowledgeable service and sales people can help.
Call
902-453-1940
.
First Last
Title
555-555-5555
SHARE YOUR EXPERIENCE

We Welcome Your Feedback and Comments
Do you have questions or comments for us? We'd love to hear them! Fill out the form and we will get back to you as soon as possible.
If you need help with any aspect of the buying process, please don't hesistate to ask us. Our customer service representatives will be happy to assist you in any way. Whether through email, phone or in person, we're here to help you get the customer service you deserve.
We appreciate everyone's feedback. Unfortunately due to limited amount of space on our website we will only be able to post some submissions after review. Thanks & have a great day!